2017 Chinese summer camp of Confucius Institute at University of Latvia was rounded off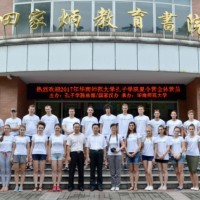 From 10th July to 20th July, Beijing time, 23 members of the summer camp of the Confucius institute at University of Latvia, led by the Confucius-institute-delegated teacher, Dong Fang, traveled to Guangzhou and Beijing to take part in the study of the Chinese culture and language for 12 days.
The first destination of the summer camp was Guangzhou. The campers appreciated the broad and profound Chinese culture through the classes of Chinese language, Taiji and Chinese talents; were astonished by the prosperity of Guangzhou and the rapid development of China through the night tour of the Pearl River and the splendid night scene; had a taste of the delicate and unique Lingnan culture through the quaint buildings of the ancient Guangzhou and the exquisite refreshments; marveled at the diligence and the intelligence of the Chinese ancestors through the pottery making and the lion dance.
On 18th July, the campers arrived at Beijing to take part in the opening ceremony of the Confucius institute summer camp of the 16 Central and Eastern European countries. At the ceremony, the campers was singing and dancing to perform the Year of the Rooster has come, for which the teachers and the campers had carefully prepared for a few days. During the time, the campers also visited the headquarters of the Confucius institute, a number of monuments and sights like the Summer Palace, the Great Wall, the Forbidden City, the Tiananmen Square, the Olympic park, etc.
As the important transfer station of the Belt and Road, Latvia has built bridges between China and Central and Eastern Europe and between China and European Union. This substantial and delightful study of the Chinese culture has stimulated the interest of learning further about the Chinese culture of the campers who are more found of the Chinese language and culture.