Bring Chinese Tea Art to Latvia University of Agriculture in Jelgava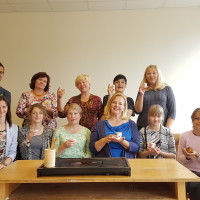 Local time in the afternoon, June 13th, 2017, teachers from Confucius Institute at University of Latvia came to Latvia University of Agriculture. Teachers introduced Chinese tea culture to teachers from at University of Latvia.
This activity was hosted by Chinese teachers Ms Dong Fang and Latvian Chinese teacher Ms. Yana, consisting of three parts—introduction, performance and tea-tasting. First of all, the Chinese teacher introduced the origin of Chinese tea, different types of tea, tea etiquette, taboo and customs in different areas of China. Two teachers explained the connection between Chinese tea culture and Latvian tea culture by comparing the different pronunciation of the name of tea in Chinese. Then two teachers, one was to be the performer, another was to be the explainer, made a tea ceremony to everybody. Following the background music, the tea art teacher's hands danced softly between the blue and white tea sets. In the tea blending, tea fragrance overflow slowly. The tea art brought the magnificent atmosphere to everybody, and all audience were infatuated by the charming of Chinese tea ceremony. After the tea ceremony, tea teacher invited one audience to experience the tea ceremony. With the guide of the teacher, the participant did every step carefully. After the experience, the participant showed great interest to Chinese tea art, and intended to show the tea art to the rector of Latvia University of Agriculture.   
Jelgava city where Latvia University of Agriculture locates has few Chinese people, and the Chinese teacher there is Latvian, so Chinese learners in that city have few chance to meet Chinese people. This activity gave Chinese learners there a chance to communicate with Chinese people, and got deep interest in Chinese language and culture.