HSK&HSKK Test was Held in Confucius Institute at the University of Latvia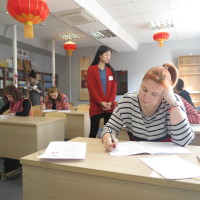 Local time at 10:00 a.m. ,on March 19th , 2017, HSK&HSKK Test was held in Confucius Institute at the University of Latvia. Thirteen people from all over Latvia participated in the HSK test from the first level to the fifth level, as well as the HSKK test of elementary level.
HSK test is a standardized international Chinese proficiency test, which is the key test for examine Non-Chinese speaking speakers' ability of using Chinese language in life, studying and working. In order to hold the test successfully, the teachers of the Confucius Institute made full preparation. At the eve of the examination, the teachers in each teaching point vigorously promoted the exam, organized the students to register and patiently tutored them for the test. The day before the test, they also arranged the examination room and checked the equipment to ensure the smooth progress of the exam.
HSK&HSKK test was smoothly completed with the efforts of Chinese teachers from Confucius Institute, and certainly obtained the highly evaluation by the students. Confucius Institute at the University of Latvia will continue to expand the promotion of HSK test and actively cultivate Chinese learners to carry out the test network, so that more and more Chinese learners can participate in the test.