LUCI Attended the National Day Concert and Reception of "the 67th Anniversary of the Founding of the People's Republic of China"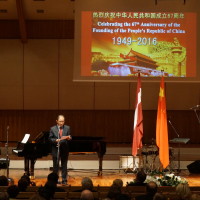 Local time on the afternoon of September 26th, the Embassy of the People's Republic of China in the Republic of Latvia held a National Day concert and reception to celebrate "the 67th anniversary of the founding of the People's Republic of China" at the Great Guild.
There were many guests came to the reception. The Deputy Prime Minister of Latvia, the Ministry of Foreign Affairs of Latvia, the Rector and Pro Rector of University of Latvia, the Rectors and Pro Rectors from Chinese Programs of LUCI, the Chinese-side Director and Latvian-side Director of LUCI, the Volunteer Chinese Teachers and Latvian and Chinese people from all walks of life more than 400 people attended the celebration.
At the concert called "Cultural Fusion", Chinese flute performer and Latvian pianists played the "Oasis" and "Floating Clouds, Flowing Water" together which brought the audience into a state of ecstasy; At the same time, the music performed by the Latvian artists, such as "The Wolf" and "Electric Shepherd" which gave the audience the illusion of exposure to grassland. Finally the concert pulled down the curtain by the music of "Half past four in the morning" and "Mo Li Hua" which were played together by the Chinese and Latvian artists.
At the reception called " to Celebrate National Day Ÿ to Taste the Chinese Food", Huang Yong, the Chinese Ambassador, expressed the determination and confidence of China's development, fully affirmed the contribution made by the LUCI, and looked forward to the present and future development of China-Latvia. After that, the Chinese and Latvian people from all walks of life tasted the beauty of Chinese food.