A Series of Chinese Fun Games was held in Riga No.34 Secondary School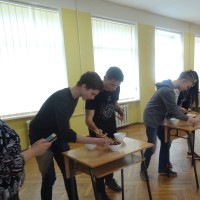 Local time at 2p.m., on 27th April, 2016, a series of Chinese Fun Games was held in Riga No.34 Secondary School.
Full of happiness and joy, nearly 50 people including Chinese volunteer teacher, the students and teachers from two campus of Riga No.34 Secondary School took part in the interesting activity. The Deputy Dead Marina, also attended the games. In this game, not only did the little expert of Chinese participate in it, but also the students who have never learnt Chinese before. They formed groups in five, cooperated with each other and completed challenges.
The first challenge was to entitle their teams very grand-sounding names. After discussion, the students came up with many creative names, like "Dragon", "Tiger", "Moon", "Sun", "The Princess is Chinese" and "Lovely Panda". The first game was group game. Competitors should clamp the Ping-Pong ball with chopsticks to have a retracing running. The second game was to pick up chocolate beans with chopsticks. During the two games, the students tried their best to control the chopsticks, they held the ball and beans carefully, which was seen very funny. The third game was playing shuttle cocks, and the best player represented their team to finish the game. To everyone's surprise, team "Dragon" won the first prize in this game with forty-nine times kicking in one minutes. At last, competitors joined the Chair-Grabbing game. The competitor who grabbed the chair should answer one question about China, and they would get one point if they were correct while the point would be given to the opponent if they were wrong. The game was really exciting that every group was so concentrated and competitive. Finally, the team "Panda" got the first prize and attained the success in the game.
The game was held successfully, which did not only enrich students' school life, but attracted non- Chinese class students' interest and attention.