Celebration of Lantern Festival was held in Riga No.34 Secondary School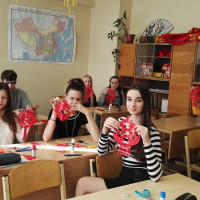 Local time at 10:10 on March 2nd in Latvia, 2016 Celebration of Lantern Festival had been held in Riga No.34 Secondary School.
Reporters from Latvia Re TV, Chinese students, Latvian Chinese teacher Evita and Chinese volunteer teacher attended the event.The reporters of Latvia Re TV also recorded this event.
At the begging of our event,the Chinese teacher of Latvia Evita introduced the Chinese traditions of the Lantern Festival.Mrs. Evita told the students the time meaning of Lantern Festival as well as the traditional ways to celebrate it.After that, Chinese volunteer teacher made red lanterns with students, filled the classroom with joyful atmosphere. The teachers and students played a game called "Passing the Yuanxiao(dumplings)", which lighted everyone in the classroom. Finally, the event happily ended by eating traditional Chinese food——Yuanxiao which made my Chinese volunteer teacher.
Through this event,Chinese traditional culture is blooming again in Latvia,and students got great opportunities to know more about China. That not only spread the knowledge to students, but also enhanced the relationship between this two countries.